Celebrities have the power to change the world if they choose to do so. Whether they share their passion, mission, or wealth, it creates a lasting impact on society and the world at large.
As celebrities, their influence is outrageous and so are their connections. Their fans adore them to the extent that they not only travel thousands of miles to meet them but also donate large sums of money for their cause.
Below we have 9 listed charities run by some of the most generous celebrities. These are people who take philanthropy as their second job and whose donations have made a noticeable difference in changing people's lives at large all around the globe.
1. The Angel Network by Oprah Winfrey
The famous American Television celebrity Oprah Winfrey runs several organizations, and she is often called the Queen of charity. Oprah helps women and children all around the world with education and health care. She aims to encourage education for young girls, especially in third-world countries where there is hostility against women scholars. Globally, she advocates for women and child literacy.
Her three organizations are;
Angel Network

The Oprah Winfrey Leadership Academy, and 

The Oprah Winfrey Operating Foundation. 
2. Leonardo DiCaprio Foundation
Leonardo, the famous actor, is also an environmentalist who founded this foundation in 1998. His is a non-profit organization devoted to the conservation of wildlife and oceans. He aims to protect the last remaining wildlife resources and build a harmonious relationship between people and nature.
3. The Happy Hippie Foundation
Through this charity, Miley Cyrus aims to bring a change to the world. She believes that the change starts with the younger generations, focusing on providing resources and support to young, especially homeless children.
The charity encourages young people to take a stand and raise their voices against what is wrong.
4. Kode with Klossy
Karlie is one of the biggest names in the modeling world. She created this foundation in 2015 when she realized that women make up just a tiny portion of the tech industry. Her motto is to encourage young women to learn to code by providing them with the resources like classes and scholarships to teach young girls how to build websites and apps through coding.
It provides two weeks summer program for young women between the age of 13 to 18 years old. 
The Tech industry is male-dominated, and Karlie is trying to change that by helping young women teach coding to make their way in the industry.
5. Born This Way Foundation
Lady Gaga founded this foundation in 2012 with the help of her mother. It promotes community safety and tolerance by giving young people access to resources and support to deal with bullying and mental health issues.
It teaches teens to identify early signs of mental health issues and how to cope with them. So, they could learn to become tolerant and functional human beings in the future.
6. The Obama Foundation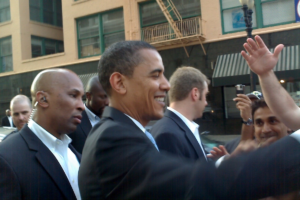 Michelle Obama started this in 2015 while her family was residing in the White House. The program helps young girls receive the education they deserve.
She started the Let Girls Learn campaign to help girls getting access to education and gain resources and opportunities to become leaders.
The charity brings together some government institutions to determine the obstacles hindering girls from achieving their education goals around the globe. Then by providing resources like public education programs, it closes the gap.
7. HeForShe
Emma Watson is the Celebrity who used her platform to start a charitable organization.
It works with UN Women and focuses on fighting against gender inequality. It focuses on highlighting the importance of gender equality. In her efforts, she involves both global leaders and the general public to make a difference in the world.
She does not encourage only women but also includes men to participate in the conversation, take action, and educate themselves about women's rights and equality. 
8. The Ian Somerhalder Organization
Ian Somerhalder, the great actor from vampire diaries, and his wife Nikkie Reed have a profound love for animals. Their charity focuses on promoting the conversation of protecting natural resources for the benefit of the community to help the helpless animals in any way possible. The organization also helps unprivileged humans.
9. The Shawn Mendes Foundation
He is one of the most famous names in the music industry, founded this non-profit foundation in 2019. He aims to inspire his fans to create positive change. The charity focuses on his fans and younger generations to figure out their passions and. Plus it also facilitates them to know about the causes they are willing to fight for.