Charity is originated in the late ( Old English ) means " Christian love is one's fellow " that remains synonymous word " Charity ". It is voluntarily giving help to those in need and it's an act of humanitarian and work of kindness. Some common meaning of charity is leniency, grace, mercy, and clemency. Good deeds will be shown in giving such a charitable act. You were happy to give a whole-hearted sincerity that comes from your heart and you don't even need a replacement for what you give. You only feel the pleasure of happiness helping them every time you help them. Sees their happiness in their eyes and smiles on their faces. Giving food money and time to less fortunate people means " charitable trust " or other worthy cause.
And giving a charitable religious act of duty is called " almsgiving or alms ". Some individual person too are whole-heartedly helps in a quiet way of helping they were called philanthropists. Everybody can be a philanthropist even if you don't have a million dollars in your bank account. You can simply donate your time, treasure, or talent in doing good deeds. By using specific financial strategies that you can, to give to your charity mission works. That was individuals gives more impact in helping charities. And to decide what's more important to you to do in every variant of ways of helping others.
Charitable Act of Help
Donate blood
Donating blood regularly is a great way to ensure your giving it to the one who needs it most because it was contributing nationwide and to help provide a life for people. You can be a lifesaver to someone else.
Volunteering your time in a homeless shelter or kitchen
Charitable organization really appreciates volunteers who spend their time helping charitable acts. So start thinking about volunteering it's a really big help to charities.
Sell and Donate
If you are having a lot of unwanted things, why not? sell it! and donate or give it to your charity of choice.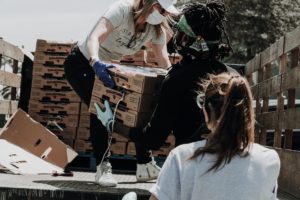 Donate blankets, toys, gloves, coats and etc.
Give them to homeless people or temporarily homeless people who experienced calamity in life.
Buying things in a Charity Shop
Rather than buying things in malls or in signature stores… Why not! try to go to a Charity Shop and buy kinds of stuff or things there that you needed. It causes a lot and it will benefit the less fortunate that charity helping.
Throw a birthday party for charity
Throwing a birthday party to a charity that you chose and encouraging others to donate or contributes helps.
Raise Funds
You can raise a donation, by helping a charitable cause just like by joining organizations that participate in a sponsored walks, run, rides and etc. post it on your social media so that you can encourage them in an easy way.
Donate your organ
Probably if you die you won't use your organs. So why not donate your organs if you passed away. You can simply donate and register it and assign your donor status on your state or license ID.
Be Kind to Animals and Give Care to Nature
Not just people need help animals and natures too. Let's helps organizations like this by volunteering for them…
These charitable acts of help really can be a lifesaver and happiness to the homeless, beggars, animals, less fortunate, and ill people so don't stop helping, let's make the world be a better place even it was a little act of helping and kindness it can cause impact in the life of others.
Top 5 Charity Providers Worldwide
Novo Nordisk Foundation ( Denmark )
Bill & Melinda Gates Foundation ( United States )
Stichting INGKA Foundation ( Netherlands )
Wellcome Trust ( United Kingdom )
Howard Hughes Medical Institute " HHMI " ( United States )
Charity Saint
The takeaway
Did you know that we have a Charity Saint? She was a Black American Catholic convert and a Philanthropist, she was known as Denver's "Angel of Charity ". Devoted to the Most Sacred Heart of Jesus, the Blessed Virgin Mary, and Holy Eucharist. Then she also made her rounds after dark in the streets of Denver giving food, clothing, coal. In 1901 she's an active member of Secular Franciscans. The first person to interred in the Denver Cathedral since it opened in the year 1912. And in 2014 January, the Roman Catholic Archdiocese of Denver officially opened an investigation for her sainthood that canonized her to be a Saint of Charity for doing good deeds and helping others.
Let us spread love and help to others and never get tired of doing good things and charitable deeds to those in need.