Maybe you already know about all the easy ways to send money online, such as MoneyGram and Western Union, but using these wire transfer services can be expensive. PayPal, on the other hand, is not just a cheaper solution, but an easier one as well. You will just need the person's mobile phone number or an email address to send them money through PayPal. They don't even have to have a PayPal account themselves, and if you pay with your bank account or PayPal balance there will be no fees for you. Learn how to send money online with PayPal by following the steps listed below because this is the best way to transfer money without leaving your home.
1. Go to the PayPal website and create an account or sign in
Learning how to send money online with PayPal starts by visiting this website and logging in or creating an account. If you don't have an account you will need to choose a payment method and connect your credit card, debit card, or bank account to your PayPal account. This can seem difficult when you're doing it for the first time, but you'll see on-screen instructions, and you can always contact support if you encounter any difficulties with setting up an account. You will not be able to make payments with PayPal if you don't connect your debit card, credit card, or bank account to your PayPal account, so this a step that you can't skip.
2. Choose the payment option
The next part of learning how to send money online with PayPal is clicking the send and request tab and choosing the payment option. The option you pick will determine which fees will be applied, if any, as well as how your payment will be processed. If you have purchased something and want to pay for it, choose "pay for goods and services". This option includes a fee. If you want to send money for personal reasons you can choose "send to friends and family in the US" or "send to friends and family internationally". The first option is free while the second will require you to use a service called Xoom.
3. Enter the phone number or the email address of the recipient
Always check whether you have the correct phone number or email address before sending the payment because you don't want to send it to someone you didn't intend to. If you've been sending payments to this person before you won't have to type the information. Just click on the field, and you'll see a list of everyone who received payments from you in the past. This is a great feature because you don't have to double-check the info if you've already sent the payment, and it saves you time.
4. Enter the amount
The next step in learning how to send money online with PayPal is entering the amount you want to send, but you need to check the currency before you do that. Your location's currency is supposed to be already selected, but if it's not, you can do this manually. You can also write a message to the recipient in the field that says "Add a note" and whatever you write here is going to be sent to the recipient.
5. Make sure to double-check everything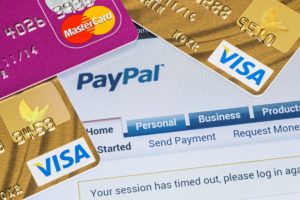 Once you're done with all the previous steps you'll see a summary of your payment displayed on the screen. This is the most important part of learning how to send money online with PayPal because you should double-check everything to make sure that all the information is correct. You can now change the payment method if the selected one isn't the one you wish to use. The amount will be taken from your PayPal balance if there is enough money to cover the entire payment. If there is not enough money on the account balance, PayPal will take all the money from the account balance and take the remaining amount from the default payment account.
6. Send the payment
The last part of learning how to send money online with PayPal is sending the payment. The recipient will get a notification of your payment whether by email or an SMS. If they don't have an active PayPal account they'll be asked to create one, so that they could receive money. The important thing to remember is that you can't reverse or cancel transactions after they've already been made. This is why it's so important to double-check everything, but all in all, PayPal is very simple to use, so you'll probably be fine.