What comes to your mind when you think of an elevator? In the past, an elevator was considered a luxury, but things have changed, and people are gradually embracing this comfort in their homes and workspaces. Apart from the changing mentality, elevators have become very cheap compared to the 90S and early 2000s.
Previously, elevators were a reserve for the rich and the physically challenged. These days, it is a consideration when shopping around for a home. Many property developers factor in elevators to increase property value and market acceptance.
Below are 5 reasons why you should also get a home lift elevator.
Increases The Market Value of Your Home
These days, living a quality life is every person's priority. And as such, an elevator is one of the considerations home hunters are looking to have in their homes. It simplifies movement in and out of the house. Because of this, you should consider installing an elevator to increase the market value of your home since you might want to sell it someday.
A preinstalled home elevator can double your home's market value, especially if the buyer is a retiree or older person.
Improves Mobility And Eases Transportation
Imagine trying to move items like furniture into the upper spaces of your house, and the staircase makes it impossible! It is one feeling that I am sure nobody wants to go through when improving their homes. The most significant advantage of installing a home elevator is to ease movement and transportation into and out of the house.
The need is even louder for senior adults. Staircases have caused numerous accidents, and sadly some of them have led to eternal paralysis and, even worse, deaths. However, studies have shown that even though elevators are not 100% safe, they significantly reduce staircase accidents by over 95%.
For a family with kids or sickly persons, it is also good to have a functional elevator. It eliminates all the fears that parents have of their kids tripping off the staircase.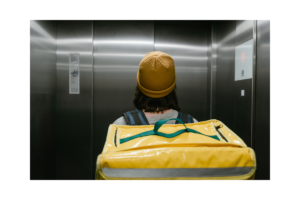 They Are Convenient And Saves Space
A home elevator occupies a smaller portion of the hose than a spiral or zigzag staircase. This allows homeowners to utilize the available spaces in the house. A staircase must be installed inside of your house and the space underneath it is always unused. The dynamics of an elevator are different since it can be installed outside with an access door on the walls of your house.
Doing this enables you to save the space that could have otherwise been eaten up by a staircase and bring in more furniture or turn it into a kids' playroom. How cool is that!
Moreover, a home elevator saves on time. It moves goods and people from point A to point B very quickly. Imagine going to the second floor of your home after a long working day! It is not only exhausting but also strenuous.
An Elevator is Stylish
The eye is the most prominent critic in our bodies, and when it's satisfied, then we feel good. When building or renovating a home, you always want bits of detail to stand out. However, a staircase often makes this a distant reality because regardless of how much you invest in it, more often than not, it doesn't impress.
An elevator is very decent regardless of where you position it. It gives your house a very classy and luxurious look which cannot be achieved with a staircase.  If you want silver shiny, dull, bright yellow or all-glass home elevators, you will find them in the market since there is something for everyone. Your choice of color and style will give your home a unique style and more functionality.
Reduced Cost of Maintenance
Even though an elevator sounds luxurious and many people think that maintaining it is expensive, the reality is that it is the cheapest to maintain. Home elevators use a minimal amount of power. Moreover, they are made to last therefore rarely require expert services.
When it comes to cleaning, it gets even better because, unlike a staircase where you clean all of its surface areas, in an elevator, you clean only a small area.
Whether you are stylish or a keep-it-simple kind of person, you will always find a home elevator that suits your needs. The fear that many people have always had about elevators is their price tags, but it has significantly reduced over the years.  To give your home elevator a natural look, ensure that it is included in the initial plan of your house. However, worry not if your home doesn't have one because fitting it requires only a few renovations, and you are good to go.